Home > International > The Pennsylvania Governor sacrifices the precarious and the sick to his (...)
In Paris, as well in Philadelphia, Social Insecurity Kills
The Pennsylvania Governor sacrifices the precarious and the sick to his own budgetary logic.
Wednesday 1 August 2012
All the versions of this article: [English] [français]
Philadelphia - This Tuesday, July 31, in Philadelphia, two hundred American activists, fighting against AIDS, for the rights of the precarious and diverse minorities- (African American, Latino, LGBT, etc.) gathered in the city center, outside the offices of the Republican Governor, Tom Corbett, to protest against his new fiscal policy.
Governor Corbett decided to deprive 60,000 people on existing welfare - Global assitance. This measure, effective that same day, aimed in particular to those already suffering from serious illnesses or disabilities, that prevent them from working. It also affects people receiving proper health care from their addiction to alcohol or drugs. The victims of this decision are seriously ill people, and precarious.
They are predominantly, African-American, or Latino, as is no surprise, as this measure is also determined by an underlying racism that views these people as social parasites, and profiteers of the system.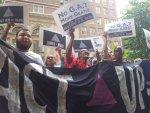 The co-organizers of the event, including ACT UP-Philadelphia, are concerned about the immediate and disastrous consequences of this decision : loss of primary income, loss of housing, additional difficulties in obtaining food, and medicines, that save lives.
These N.G.O's fear, and rightly so, that the number dead, already found in the streets, whose number is already high in
Philadelphia, will only further increase.
"Last week, politicians hold wonderful speeches at the international conference on AIDS in Washington", said Jerome Martin, of Act Up-Paris, who also attended yesterday's demonstration in Philadelphia. "The politicians were both Republican and Democrat, and they all reaffirmed the need to defend the social rights of HIV Positive persons in order to end the AIDS epidemic. A week later, the governor of Pennsylvania, Corbett, swept away these promises, and in doing so, avoided taxing large corporations, who already make huge profits. Instead, he offered budget savings on the backs of the poorest, the sickest, and the most vulnerable. With this measure, we consider Governor Corbett, as an accomplice of the AIDS Epidemic, and that he will be held responsible for the dead in the future, that will be inevitable, following his budget logic."
Act Up-Paris has called upon French and international media, to relay this information, so that the name of Governor Corbett, the enemy of the sick, and of the poor, to be known to all.
In Paris, as in Bangkok, in Yaounde, as in Philadelphia, Social Insecurity Kills!