Week of action against Roche (Day+2)
Aids / South Korea : Roche pushes for more time, people living with HIV/aids die
publié en ligne : 2 octobre 2008
Yesterday morning, in Seoul, South Korean activists demonstrated (picture) in front of Roche-Korea head offices in order to denounce Roche policy.
In South Korea, indeed, the giant drug company Roche, declared during a meeting several weeks ago that they 'do not do business to save lives but the make money. Saving lives in not our business'. Such a statement took place after the negotiations on Fuzeon (an antiretroviral used by people living with HIV/aids in case of resistance to first and second line medication) just failed with the Korean government. The Korean government could not pay more that $18 000 per year and per person for the drug. But, Roche, who demanded $ 22 000, refused to cut the price, illustrating to perfection its usual contempt for people living with HIV/aids. As of today, Fuzeon is still not available on the Korean market.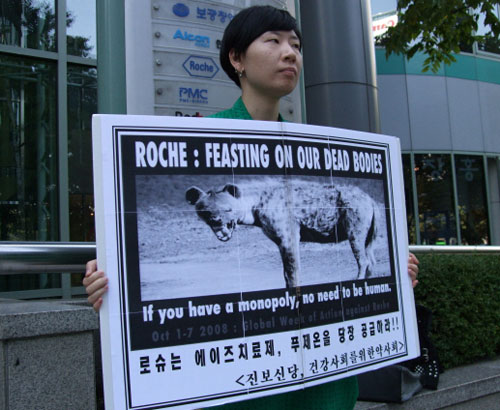 Since yesterday - day of launch of the week of action against Roche [1]-, activists have already organized demonstrations front of the head offices of Roche in Seoul (picture).
After that, Roche sent us some false information — in an e-mail on the September 30th — trying then to discredit South Korean activist claims. On October 1st, Act Up-Paris approached Roche-France and Roche-Switzerland requiring some explanations and some concrete actions from the drug company.
The head of communication of Roche, in Basel, Mike Nelsen, called Act Up-Paris yesterday morning in order to organize a phone call during the day. Act Up-Paris has deplored the fact that Korean activists were not a part of the phone call. During another phone call, later, between a spokesperson of Act Up-Paris and Mike Nelsen, Roche took the commitment to contact as soon as possible Roche-Korea, in order to obtain some information and then 'to be able to reply to Korean activists'
But, today, Korean activists still do not have any news from Roche. Instead, the only answers are the silence and the contempt.
This morning (French time) and following the pressure of Act Up-Paris, Mike Nelsen replied that Roche will not have the capacity to respond to PLWH in South Korea before a few days.
The cynicism and the disregard of Roche do not have to be proved. Roche must find solutions to lowering the cost of Fuzeon and answer as soon as possible to the Korean activists.
Thus, in the morning of the second day of the global week of action against Roche, the international HIV/aids community, including ACT UP Paris, is calling for people living with HIV/aids across the world to denounce Roche behavior and maintain pressure on them.
We still demand :

Roche must organize a meeting as soon as possible with the Korean activists

Roche must cut its prices on HIV/aids drugs, including Fuzeon's price, making them available in South Korea and in every other country where the medication is not available because of the high prices claimed by Roche.

Korean government must issue compulsory license on Fuzeon to overcome the patent.
Notes
[1] The call for the week of action against Roche has been sign on by many organizations :
South Korea : Korea HIV/AIDS Network of Solidarity, Nanuri+, HIV/AIDS Human Rights Advocacy Group of Korea, Public Pharmaceutical Center, Solidarity for Lesbian Gay Bisexual Transgender Human Rights of Korea, Korean Gay Men's Human Rights Group, Sarangbang, Group for Human Rights, Health Right Network, Korean Federation of Medical Groups for Health Rights, Association of Korea Doctors for Health Rights, Association of Physicians for Humanism, Korea Dentists Association for Health Society, Korea Health and Medical Workers Union, Korean Pharmacists for Democratic Society,People's Solidarity for Social Progress, Intellectual Property Left, Korean Progressive Network Jinbonet, Korea Leukemia Patient Group, New Progressive Party
US : ACT UP-Philadelphia, American Medical Student Association, Health GAP, Knowledge Ecology International
France : Act Up-Paris, Aides, Avocats pour la santé dans le Monde, Coalition PLUS,
Marocco : ALCS Maroc
Suisse : Global Health Advocates
Cameroun : Positive-Generation et MOCPAT